"Advent is about learning to wait. It is about not having to know exactly what is coming tomorrow, only that whatever it is, it is of the essence of sanctification for us. Every piece of it, some hard, some uplifiting, is sign of the work of God alive in us. We are becoming as we go. We learn in Advent to stay in the present, knowing that only the present well lived can possibly lead us to the fullness of life." (Chittister)
During Advent I'll forego my weekly
Buy More Art
posts in order to share almost-daily meditations of Scripture, hymns, and art reflecting the
alternate narrative and subversive time
of waiting in hope for the Christ who came, the Christ who will come again and the Christ now among us.
Won't you join me?
FIrst Wednesday of Advent: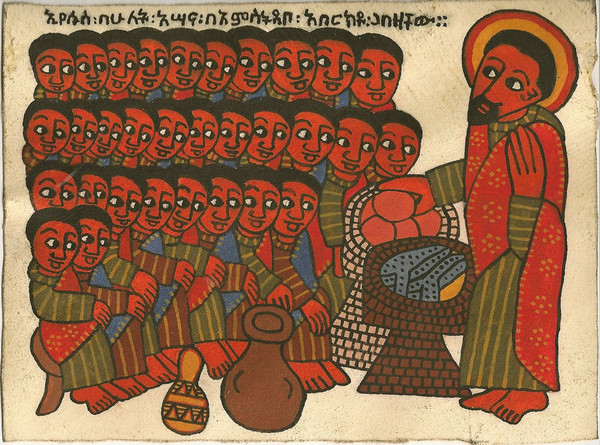 Unknown Ethiopian Artist
via Sacred Art Meditations
A Reading from Isaiah 25
6

On this mountain the

Lord

of hosts will make for all peoples
a feast of rich food, a feast of well-aged wine,
of rich food full of marrow, of aged wine well refined.
7 And he will swallow up on this mountain
the covering that is cast over all peoples,
the veil that is spread over all nations.
8

He will swallow up death forever;
and the Lord

God

will wipe away tears from all faces,
and the reproach of his people he will take away from all the earth,
for the

Lord

has spoken.
9 It will be said on that day,
"Behold, this is our God; we have waited for him, that he might save us.
This is the

Lord

; we have waited for him;
let us be glad and rejoice in his salvation."
10 For the hand of the

Lord

will rest on this mountain,
clip from
Babette's Feast
A Gospel Reading from Matthew 15
29 Jesus went on from there and walked beside the Sea of Galilee. And he went up on the mountain and sat down there. 30 And great crowds came to him, bringing with them the lame, the blind, the crippled, the mute, and many others, and they put them at his feet, and he healed them, 31 so that the crowd wondered, when they saw the mute speaking, the crippled healthy, the lame walking, and the blind seeing. And they glorified the God of Israel.
3

2

Then Jesus called his disciples to him and said,"I have compassion on the crowd because they have been with me now three days and have nothing to eat. And I am unwilling to send them away hungry, lest they faint on the way."

33 And the disciples said to him, "Where are we to get enough bread in such a desolate place to feed so great a crowd?"34 And Jesus said to them,

"How many loaves do you have?"

They said, "Seven, and a few small fish."

35 And directing the crowd to sit down on the ground,

36 he took the seven loaves and the fish, and having given thanks he broke them and gave them to the disciples, and the disciples gave them to the crowds.

37 And they all ate and were satisfied. And they took up seven baskets full of the broken pieces left over.

38 Those who ate were four thousand men, besides women and children.
A hymn of response (lyrics here)
Recommended resources for Advent:
How to Make An Advent Wreath at Like Mother, Like Daughter
Watch for the Light: Readings for Advent and Christmas,
40 essays and poems from theological writers such as Dietrich Bonhoeffer, Dorothy Day, Madeleine L'Engle, Martin Luther, Kathleen Norris, Henri Nouwen, Philip Yancey, Karl Barth and Síren Kierkegaard; published by Orbis Books
Now it's your turn! What art are you enjoying this season?
Tell us about it in the comments below.
If you've written your own post, share the link.
-----------------------------------------------------------------------
"I keep expecting loud and impressive events to convince me and others of God's saving powers. Our temptation is to be distracted by them. When I have no eyes for the small signs of God's presence ... I will always remain tempted to despair."

--

Henri Jozef Machiel Nouwen

,

Gracias! A Latin American Journal (1983) (via Diary of An Arts Pastor)