Last weekend
I shared some favorite excerpts
from my Lenten reading, a book by N.T. Wright,
The Challenge of Easter
. In the book, the author posits that if we are not thinking in whole terms about the meaning of Resurrection, we water it down to only have significance for eternal life, as in later life. While that is still good news, what does Resurrection mean for the here and now life? Thinking only in half terms about the magnificent gesture of our God in raising Jesus as the first-born of Creation has ill-forming consequences on us. The finished work of Christ -- birth, life, death, burial, resurrection, ascension -- and the gift of His Spirit in us gives us a new way to be human in the here and now life.
"If you are to shape your world in following Christ, you are called, prayerfully, to discern where in your discipline the human project is showing signs of exile and humbly and boldly to act symbolically in ways that declare that the powers have been defeated, that the kingdom has come in Jesus the Jewish Messiah, that the new way of being human has been unveiled, and to be prepared to tell the story that explains what these symbols are all about."
That phrase new way to be human has perched itself in a high branch of my imagination and will not shake loose. One way I'd like to wrestle more with what the phrase means is to transform my Friday regular posts of new finds into sharing stories of new ways to be human.
Good idea, right?!?
I've been collecting stories to share with you each week, but thought I'd launch the whole thing with one of my favorite Creators and Cultivators, my sister Kaley. I've told you about her and her booming blog, Cha-Ching on a Shoestring. The story of how Kaley and her husband Wes took the lemons of unemployment and turned them into the lemonade of helping others learn how to save, how to live large on a limited budget would qualify them for this Friday post.
But, over time, Kaley's taken the enterprise a step further by encouraging her thousands of followers to not only save money for their own family budgets but to also use their new thrifting skills to reach out to others in need. This past year, that passion has been further fueled in response to the bad press bargain hunters have received in reality television shows like TLC's Extreme Couponing which highlight couponing enthusiasts as dysfunctional hoarders. Early on Kaley was polled for that program and quickly realized what kinds of stories the producers were trying to find. This realization and the actual viewing of the program in tandem with Kaley and Wes' own concern for those in our communities who are suffering poverty and hunger and a new, new idea was born.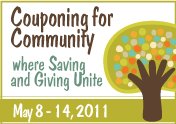 A new way to be human, indeed! Kaley has set a goal for over 10,000 items to be donated during this week-long event and to date (with a little over 24 hours left) participants have recorded -- as of the end of the day Friday -- total of 15,385 items donated to food pantries, homeless shelters and relief organizations around the country.
Here's the way Philadelphia's ABC affiliate reported the story:
And this is my sister. Who spends her days playing spiderman with her two pre-school sons and helping her husband, the youth pastor.
Mother's Day -- aren't my nephews cute?!?
So, there's my first New Way to be Human post. How about you? Do you have any favorite stories of people who find new ways to connect their passions to broken places in our world? I'd love for you to share those stories -- large or small -- with us here. You can add it to the comments section or if you are a b
logger,
use the Simply Linked function below to share the link from your post with us. I'd be honored if you included a link back to me on your blog.
Neither of these work for you? I also accept carrier pigeons.