Each week, usually
on Monday
, I compile a metaphorical mixtape, a few "tracks" of art I can't wait to share with you. It might help you to know that tracks are loosely related by theme and very much influenced by whim.
Road trips make me happy. While it's not the most efficient way to take a vacation -- four whole days on the road between here and New York -- is a perfect excuse for an annual road trip.
This week I've curated for you a collection of road trip-inspired artwork.

Enjoy!
track 1: Station Wagon original road map painting (Etsy)
Station wagon original road map painting by Arrolynn on Etsy, $70.00
Like most other families in the early 1980's, we drove a wood-panelled station wagon. I've tried to describe to my kids the way the back converted into a bench seat facing backwards. From there we could look through the back window at the drivers behind us, making faces. If I was lucky I was allowed to sit back there with a boyfriend. Then it was especially good we had that giant windshield letting the world look in.
track 2: road trip soundtrack, How Many Miles (via NPR)
"How Many Miles" from the album Sundirtwater by The Waifs
This year Brian and the kids each made a playlist (18 songs max) that we rotated whenever we got bored. We also had a mixtape my sister sent us in the mail to play when we hit New York. Thanks to NPR, I found a country tune (by an Australian?) that'd fit fine for next year. Lots of miles and a few of 'em after midnight.
Visit the link for
The Best Road Trip Songs
track 3: Road Trip USA by Jamie Jensen (travel book)
On our last trip to Manhattan -- just before our move to Austin last summer -- I bought this travel book on clearance at an ill-fated Borders on Columbus Circle. We haven't yet had the luxury to take one of Jensen's two-lane trips, I keep the book under the passenger seat just in case we happen to cross near one of his suggested stops. Some day, if you can't find Brian and me you can guess we've picked a route from this book, thrown a suitcase in the trunk and hit the road.
I've also just discovered the Road Trip USA website jam-packed with more ideas, tips and inspiration than even the lustiest of wanderers.
track 4: five of our favorite road trip movies
track 5: links
A diary from the road trip that changed our lives: The Murphys Take Austin, Road Trip, Summer 2011
Day 5 (Louisville, KY by Brian)
Day 6 (Memphis, TN by Kendra)
Day 7 (Austin, TX by Alex)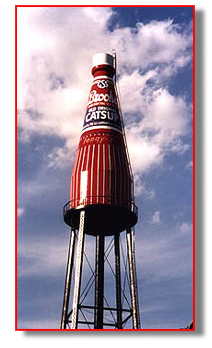 World's Largest Catsup Bottle, Collinsville, IL
Unfortunately, there was not time this summer to stop at any of the sites suggested in Road Trip USA. That's why, the morning we rolled out of St. Louis headed for central NY, I took the silly photo of the what I thought might be a giant catsup bottle in the distance. It felt familiar to me for some reason.
Afterward, I dug under the seat for the book and realized the author photo on the bookflap was taken in front of that very same bottle. Made the whole day of travel feel more adventurous somehow.



We shall not cease from exploration / And the end of all our exploring

Will be to arrive where we started / And know the place for the first time.
-------------------------------------------------------
---------------------------------------------------------------
Before I go, I should tell you that I love to hear what poems, pictures, songs and reasonable words you are enjoying. Please do stop by the comment box and share a bit with me.
Hoping that you find your common days aflame with good books,
pictures, poems, songs, words and ideas!